Forums » Using AMC (english) »
Problem with "Question 0" in answer sheet
Added by Dominique V. about 2 years ago
Hello,
I asked this question on the French forum and did not get an answer. I retry here.
I have a latex AMC project. I want to have on the first page an ACM code, then the questions and on the last page, the anwser sheet. The problem lies in the appearing of several "Question 0" on the answer sheet, these question corresponds to the ACM code (if I remove it, the "Question 0" are not present).
Is it possible to do my questionnaire this way without having these unwanted questions on the anwser sheet?
Thank you. Dominique.
Replies (9)
Can you join a minimal working example to illustrate your problem?
Sorry, I should have done that before.
Here is the French latex source of a minimal example.
Dominique.
Here is the PDF (I asked for 2 copies). For Information, I used version 1.3.0 on Ubuntu.
Dominique.
Hi,
it seems that the id code should be in the answer shee otherwise AMC will not be able to do the association automatically
I only copimled in latex and with this change, all the question 0 disappears for me.
Hello,
Thank you for your help. I think so, thus it is a feature. If some one has a workaround, I am eager to know it. (If I found one, I will write it here).
Thank you again. Dominique.
I'm not sure that this can be done easily.
Why do you need this?
Ok, no problem, I will search at my side.
I need this as I have some rules to respect for the format of the questionnaire (the code on the first page for instance).
Will think about it and will find a solution (or do no separate answer sheet as I did before).
Thank you anyway for your feedback.
Dominique.
Maybe another option to consider (even if this is not exactly what you need): print the answer sheet first.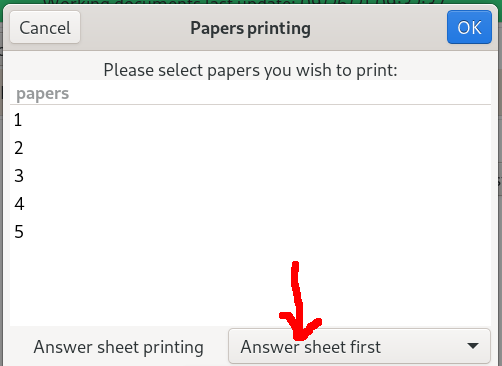 This was one option I was considering. Remain the mandatory format for the questionnaire (I do not manage rules on that format).
I may also print asside each part but as I ask AMC to randomly generate copies, I need to be sure that every student got the right questionnaire for the right answer sheet.
(It is way easier/safer if is everything is stapled together). Anyway, In all case, I can manage pdf using perl/pdftk afterward to do whatever page reordering I need.
Will think on it.
Thank you very much. Dominique.
(1-9/9)